Archive for January, 2012
If you're using HubSpot's Inbound Marketing Software, you're probably happy to have all your core inbound marketing tools — Lead Nurturing, Lead Intelligence, Email Marketing, Blogging, Social Media, SEO, Marketing Analytics, and more — in one place.
But what about all the other stuff? All the tools that aren't absolutely core to inbound marketing but that you use enough to care about.
Turns out many of these tools are now available in HubSpot's growing app marketplace. Here are eight of our favorites:
8 Awesome Inbound Marketing Apps
1. Pay-Per-Click Analysis (Developer: Website Publicity) — Google AdWords can tell you a campaign's click-through rate. And with an additional level of setup, it can tell you the conversion rate on the corresponding landing page. But you still won't know if those conversions are turning into customers. This app gives you that data, allowing you to focus on the keywords that generate customers. Install PPC Analysis for HubSpot
2. Lead Grader (Developer: Lynton Web Solutions) — If you get any kind of lead volume, you need to make sure your sales team is focusing on the leads that are most likely to close. This app makes it easy to do that. In under five minutes, anybody can install the app and set up customer rules to grade their leads. Once the rules are set up, the app starts grading leads, and your sales team can start focusing on the ones that are most likely to close. Install Lead Grader
3. Content Marketplace (Developer: Zerys) — Many inbound marketers have trouble keeping up with the pace of the content creation needed to be successful. The Zerys content marketplace helps solve this problem. It gives marketers access to a skilled pool of freelance writers who can help to create blog articles, ebooks, and whitepapers, all within HubSpot. Install Zerys
4. iReach Blog Distribution (Developer: PR Newswire) The iReach Blog Distribution App integrates with HubSpot's Blog API by pulling blog posts from within your HubSpot portal and pushing that content through PR Newswire's press release distribution network to thousands of sites. No more cutting and pasting your blog posts all over the place; the iReach app automates the work of transforming your blog posts into press releases. Install the iReach Bog Distribution
5. Marketing Contests (Developer: SnapApp) — Most marketers know that quizzes, polls, surveys, and sweepstakes are more likely than your average piece of content to be forwarded and shared with friends and family than static web pages. The SnapApp app in HubSpot allows you to create and measure all of the above from within HubSpot. No more trying to stitch together contests and surveys with a series of different apps. Install the Marketing Contests App
6. Ecommerce – Shopify (Developer: Lynton Web Solutions) – Using a Shopify Store for your ecommerce? This app will help you get more out of it by connecting the blogging, SEO, email marketing, social media, and analytics you do in HubSpot with your shopping engine. Install the Shopify Ecommerce App
7. Facebook Landing Pages (Developer: Convert Social) — Have a good following on Facebook, and trying to convert it into lead growth? This app will help, allowing you to set up landing pages and calls-to-action in Facebook. Leads collected from the landing pages will populate right into your HubSpot account! Install the Facebook Landing Pages App
8. Vocalyze Blog Voice Widget (Developer: Vocalyze) — As an inbound marketer, you want your content to be as easy to consume as possible. This app takes your blog to the next step — making it simple for your readers to listen to your blog content created on HubSpot. Check out the app on the sidebar of this very blog for an example. Install the Vocalyze Blog Voice Widget
9. [Bonus] APIs – Is there something you're trying to do that's not available in the marketplace? No problem! It's easy to build your own apps inside of HubSpot. Learn how.
Connect with HubSpot:

Go to Source
Posted by willcritchlow
In the real world, things go wrong. While we might all wish that everything we did was "fix once, stay fixed", that's rarely the case.
Things that were previously "not a problem"(TM) can become "a problem"(TM) rapidly for a variety of reasons:
someone changes something unrelated / without realising it would impact you or just screws up (e.g. deploying a staging version of robots.txt or an old version of a server config)
the world changes around you (there was a Google update named after a black and white animal a while back)
the technical gremlins gang up on you (server downtime, DDoS etc.)
In all of these cases, you'd rather know about the issue sooner rather than later because in most of them your ability to minimise the resulting issues declines rapidly as time passes (and in the remaining cases, you still want to know before your boss / client).
While many of us have come round to the idea that we should be making recommendations in these areas, we are too often still creating spectacularly non-actionable advice like:
make sure you have great uptime
make sure your site is quick
Today, I want to give you three pieces of directly actionable advice that you can start doing for your own site and your key clients immediately that will help you spot problems early, avoid knock-on indexing issues and quickly get alerted to bad deploys that could hurt your search performance.
#1 Traffic drops
Google Analytics has a feature that spots significant changes in traffic or traffic profile. It can also alert you. The first of these features is called "intelligence" and the second "intelligence alerts".
Rather than rehash old advice, I'll simply link to the two best posts I've read on the subject:
This is the simplest of all the recommendations to implement and is also the most holistic in the sense that it can alert you to traffic drops of all kinds. The downside of course is that you're measuring symptoms not causes so you (a) have to wait for causes to create symptoms rather than being alerted to the problem and (b) get an alert about the symptom rather than the cause and have to start detective work before paging the person who can fix it.
#2 Uptime monitoring
It doesn't take a rocket surgeon to realise that SEO is dependent on your website. And not only on how you optimise your site, but also on it being available.
While for larger clients, it shouldn't be your job to alert someone if their website goes down, it does no harm to know and for smaller clients there is every chance you'd be adding significant value by keeping an eye on these things.
I have both good and bad reasons for knowing a lot about server monitoring:
the good: we made a small investment in Server Density in May last year (and scored our only link from Techcrunch in the process)
the bad: we've been more enthusiastic users of our portfolio company's services than we might have hoped – some annoying server issues have resulted in more downtime for distilled.net than I care to think about. To add insult to injury, we managed to get ourselves hit with a DDoS attack last week (see speed chart below)
There are three main elements you might want to monitor:
Pure availability (including response code)
Server load and performance
Response speed / page load time
Website availability
There are two services I recommend here:
Pingdom's free service monitors the availability and response time of your site
Server Density's paid service provides more granular alerting and graphing as well as tying it together with your server performance monitoring
Here's what the Server Density dashboard looks like:
And here is the response time graph from pingdom:
You can see the spike in response time during the DDoS attack and the lower average response time over the last few days after we implemented cloudflare
Incidentally, you may not have noticed (it had passed me by until Mike gave me the heads-up the other day) that Google rolled out site speed to all analytics accounts without the previously required change to the GA snippet so you can get some of this data from your GA account now – here's the technical breakdown from some of Distilled's pages:
#3 Robot exclusion protocols, status codes
This was the most ambitious of my ideas for SEO monitoring. It came out of a real client issue. A major client was rolling out a new website and managed to deploy an old / staging version of robots.txt on a Saturday morning (continuous integration FTW). It was essentially luck that the SEO running the project was all over it, spotted it quickly, called the key contact and got it rolled back before it did any lasting harm. We had a debrief the following week where we discussed how we could get alerted to this kind of thing automatically.
I went to David Mytton, the founder of Server Density and asked him if he could build some features in for you lot to alert when this kind of thing happens – if we accidentally noindex our live site or block it in robots.txt. He came up with this ingenious solution that uses functionality already present in their core platform:
Monitoring for any change to robots.txt
First create a service to monitor robots.txt – here's ours:
Then create an alert to tell you if the MD5 hash of the contents of robots.txt changes (see a definition of MD5 here):
If you copy and paste the contents of your robots.txt into an MD5 generator you get a string of gobbledegook (ours is "15403cbc6e028c0ec46a5dd9fffb9196"). What this alert is doing is monitoring for any change to our robots.txt so if we deploy a new version I will get an alert by email and push notification to my phone. Wouldn't it be nice to get alerted in this way if a client or dev team pushed an update to robots.txt without telling you?
Spotting the inclusion of no-index meta tags
In much the same way, you can create alerts for specific strings of text found on specific pages – I've chosen to get an alert if the string "noindex" is found in the HTML of the Distilled homepage. If we ever deployed a staging version or flipped a setting in a wordpress plugin, I'd get a push notification:
Doing this kind of monitoring is essentially free to me because we are already using Server Density to monitor the health of our servers so it's no extra effort to monitor checksums and the presence / absence of specific strings.
#4 Bonus – why stop there?
Check out all the stuff that etsy monitor and have alerts for. If you have a team that can build the platform / infrastructure, then there are almost unlimited things you could monitor for and alert about. Here are some ideas to get you started:
status codes – 404 vs 301 vs 302 vs 500 etc.
changes in conversion rates / cart abandonment
bot behaviour – crawling patterns etc – given how disproportionately interested I was in the simple "pages crawled" visualisation available in cloudflare (see below – who'd have guessed we get crawled more by Yandex than Google?), I feel there is a lot more that could be done here:
---
PS – today is the last day for early bird discounts on our Linklove conferences in London and Boston at the end of March / beginning of April. (There's also a sign-up form on that page if you want to make sure you always hear about upcoming conferences and offers). I hope to see many of you there.
Sign up for The Moz Top 10, a semimonthly mailer updating you on the top ten hottest pieces of SEO news, tips, and rad links uncovered by the Moz team. Think of it as your exclusive digest of stuff you don't have time to hunt down but want to read!

Go to Source
Posted by scanlin
This post was originally in YouMoz, and was promoted to the main blog because it provides great value and interest to our community. The author's views are entirely his or her own and may not reflect the views of SEOmoz, Inc.
We launched our site in July 2010. By the end of 2011 we ranked on page one organic results for 108 relevant phrases. During 2011 we went from four phrases in the top three results to 44 phrases in the top three. Here are the SEO tactics we used to get the equivalent of $100K in PPC ads in 2011 for free.
Starting in early 2009, we took 18 months to build a subscription-based information service for investors. Half way through that process we started thinking about marketing and joined SEOmoz to learn about SEO. (First and foremost, thanks to the SEOMoz team and community for educating us on how to do SEO, as we were total novices!) Based on what we learned we made changes to our site architecture, URL naming conventions, image naming conventions, and content strategy before we launched.
Because we are a self-funded startup we knew we wouldn't have a big (or any, really) PPC budget. In our sector (financial services) many of the phrases we wanted are $10/click because we are bidding against well funded competitors (online brokers mostly). Given our conversion rates and lifetime customer value we can't make money by buying visitors at $10/click. We had to rely on organic traffic and SEO.
SEO Results
We made solid progress with our SEO in 2011. We are analytical types and like to graph the number of phrases we have in Top 3 and Page 1 organic results each week.
For Page 1 results we went from 14 phrases at the beginning of 2011 to 108 phrases at the end of 2011: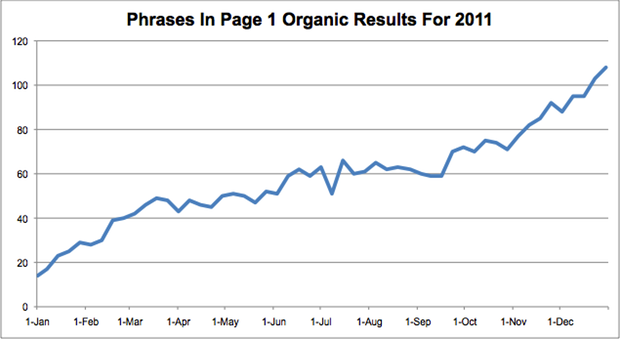 For Top 3 organic rankings in 2011 we went from four at the start of the year to 44 at the end of the year: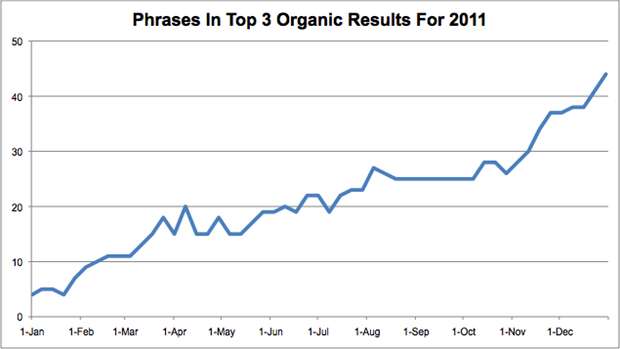 The impact of these ranking improvements was significant. We quadrupled our Google referred organic traffic during the year. At the start of the year we were getting 2000 visitors per month from Google organic visits. By the end of 2011 we were getting 8000 visitors per month from Google organic visits: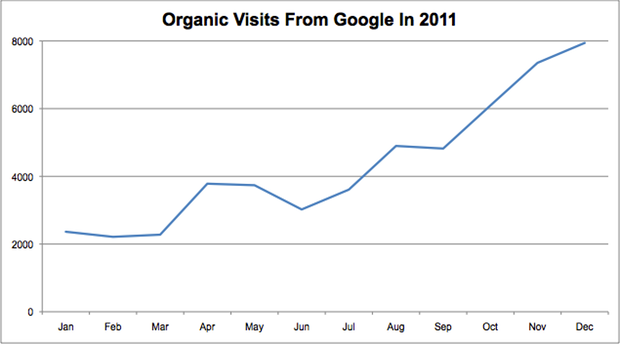 For us, this increase in organic search traffic helped us grow our business nicely during 2011.
Over $100,000 Of PPC Ads Equivalent
We wanted to know how much that organic traffic was worth to us in terms of equivalent PPC ad spend. So we went to the Google Keyword Tool and looked up the Exact Match estimated CPC for each phrase where we ranked. Then we multiplied that number by the actual visits we received for that Exact Match phrase.
For example, we rank for "call option" which has an estimated CPC (for Exact Match) of $13.66. We got 286 clicks from that phrase in 2011, which would have cost us 286 x $13.66 or $3907 if we had purchased those clicks via PPC. Do that same exercise for all of the phrases that sent us organic traffic during 2011 and you get a number in excess of $100,000. Those are visits we got for free because of our SEO. (Did I mention how much we appreciate our training from SEOmoz yet?)
Cool. So How Did You Get Those Rankings?
Ah, yes. The secret sauce. Because we are grateful to the community here, we are going to share our tactics. None of this is rocket science or breaking new ground. But rather than vague assurances, we can say for certain these tactics worked for us.
On-page optimization. We created an Excel file and mapped our site so we knew which phrase was mapped to which URL. We limited ourselves to one phrase per URL (okay, maybe two phrases if one was the plural of the other). Then we used the Report Card feature of the On Page tools here until we got an 'A' grade for every phrase/URL pair. We did this for about 200 phrases we care about. Yes, it took a while (a little bit of time each day spread over six months).
Internal linking. If a blog article on one concept mentions a concept we have another blog article for then we make sure the first points to the second with appropriate anchor text. We also interlink our Tutorial with our Blog. We actually repeat this process about once every 90 days, so to make sure that older content is referring to newer content (and vice versa) as we add more content pages.
New content. We add at least one page of unique content per week to the site (300-500 words written by us and relevant to our audience). We have a list of phrases we'd like to rank for that we don't currently rank for and tend to create content around one of those phrases each week.
Link building. We build deep links to every page. For some pages, optimized for long tail phrases, it only takes 1 or 2 links with appropriate anchor text to get a decent ranking. But for most of our phrases it requires many more links than that. We wrote a ton of guest blog articles and article marketing articles (non-spun, non-spammy) and posted them on themed (investment related) blogs and sites. An example is this guest post on a PR5 site.
BLU. Blogger Link Up is a free email list where people post requests for articles every day (there are a few of these kinds of sites). If you write something they will give you a link back. Before spending time creating new content for someone else we always check their traffic stats and look at their site. If their site is spammy looking then forget it. But many of them are quality, well-curated sites that will provide a decent link in exchange for quality content.
HARO. If you aren't using HARO you should be. It stands for Help A Reporter Out. You sign up (free) and then get a daily email from journalists looking for sources on articles. If you are relevant to the article they are working on and offer them some expert answers or content they may cite you in their article (and give you a link back). Major publications use HARO and we have successfully gotten links on sites like American Express's OpenForum (PR6 site) through this process. It's not the same as having an expensive PR firm, but it will give you at least some access to the same kind of publications a PR firm would.
Press releases. Never underestimate the links you will get if you issue a press release. We use PRWeb but there are others. Make sure the release is SEO optimized (put in a few links to deep pages on your site). Seems like no matter what you issue at PRWeb there are dozens of sites that will republish your release, creating dozens of new links. Yes, you have to pay for the releases. Do it a couple times a year, minimum.
Forum participation. This does not mean posting spam in forums. This means find where your audience hangs out and provide meaningful participation. After you've established yourself as credible (posted a certain number of non-spam postings) then most forums will let you have a do-follow link in your signature line for each post. Yes, it takes time to read and participate in the forums. You will not only get some link love (for the bots) but eventually but you will also get human visitors who just like what you're saying in the forums and come check you out.
YouTube videos. We weren't sure about this one until we did it, but it's totally worth it. Create a channel on YouTube (which will get you one do-follow link from a PR9 site) and post some videos. We saw a noticeable increase in rankings once we did this. We think that PR9 link really helped.
Facebook, Twitter, LinkedIn, Google+: Set up profiles and every time you write a blog entry post it to these outlets.
You Had Better Like To Write
The bottom line is we spend a ton of time writing. Writing for our own site, writing guest blogs and articles for other sites, writing to answer HARO requests, answering questions in forums, etc. We probably spend half our time on new content creation and writing in general. Yes, you can outsource the writing but (1) it costs money, and (2) much of what you get back won't be of high enough quality to use (at least, within our financial niche that has been our experience). Better to write it yourself.
We've definitely come to realize that SEO is not a sprint; it's a marathon. Even though we made good progress in 2011 we have another hundred phrases we want to rank for in 2012. That's over eight per month. Time to get back to writing!
Sign up for The Moz Top 10, a semimonthly mailer updating you on the top ten hottest pieces of SEO news, tips, and rad links uncovered by the Moz team. Think of it as your exclusive digest of stuff you don't have time to hunt down but want to read!

Go to Source
We have no qualms about beating the following concept into the ground, which is why you've likely heard us say it before: Analytics are critically important to inbound marketing success. Measuring and analyzing the performance of every inbound marketing channel you use to drive traffic, generate leads, and convert those leads into customers—then making adjustments to your marketing strategy and tactics based on the insights you glean from them—is what separates good inbound marketing from truly remarkable inbound marketing.
So if you're leaning toward the side of remarkable inbound marketing, you likely have some type of marketing analytics tool in place to track and measure how your marketing programs are performing. And that's all well and good, but there's a deficiency in many of these analytics platforms.
So exactly what is missing from most analytics tools these days? A canonical identity.
Putting the Person at the Heart of Analytics
The biggest thing missing from many present-day analytics solutions is the customer. While it's great to have aggregate data—like overall number of page views, leads, etc.—it's also important to remember that an individual view or lead represents an actual person. When you take this person-centric approach, you can go back in time and look at every interaction that an individual person took.
The Role of Cohort Analytics
It's easy to see why person-centric analytics are a huge advantage, especially for companies whose marketing and sales teams are very closely tied together. However, to make truly useful strategic decisions, what businesses really need are cohort analytics.
This is not to be confused with aggregate data or basic segmentation. Cohort analytics let you focus on a group of people who shared a particular experience at a specific point in time. In other words, you can then compare your visitors who saw Campaign A in January to those who saw it in February, all while ignoring those who saw Campaign B or C.
Even better, with person-level analytics, you can identify customer personas to help you find out what marketing tactics work well for each persona. For instance, you'll be able to see that people like Robbie respond better to email campaigns, while people like Joe convert better through social media.
The Future of Analytics Is Integrated
The two concepts above are patterns that other analytics products are likely to follow very soon. Kissmetrics has already started to adopt the canonical identity stuff, and Google is making headway on cohorts. However, an analytics product, on its own, isn't going to be enough to give you all the answers you want. For example neither Kissmetrics nor Google can give you good conversion data on the entire history of an A/B tested landing page, which will have variations starting and stopping at different times. As that gets more complex, it'll become nearly impossible for those analytics products to keep track of your cohorts without being deeply integrated with your CMS.
Things get even more complicated if you want to integrate your email analytics, browser data, error logging data, usage tracking, etc. Once you start going down that road, be ready with an army of engineers and a fat checkbook.
In order to create a truly powerful analytics system, all of a marketer's analytics need to live in one place, and they need to talk to each other. The HubSpot software currently offers this capability. Marketers should be hopeful that other solutions will also follow suit.
Having an all-in-one solution is valuable for marketers not just because it's "convenient" to have everything in one place, but also because the richest insights come from the intersection between different channels. Once marketers have these insights at their fingertips, they'll be able to make their marketing even more tailored to suit the individual needs and behaviors of their prospects and leads.
Connect with HubSpot:

Go to Source
Posted by randfish
What happens when you have a page that ranks very well, but it isn't the page that pulls in the sales that you need? Often times the page that does convert very well is "boring" and subsequently ranks poorly.
In this weeks Whiteboard Friday, we are going to go over some strategies you can use to get those classically "boring" pages to rank well. Don't forget to leave your comments below. Enjoy!
Video Transcription
Howdy, SEOmoz fans. Welcome to another edition of Whiteboard Friday. This week we're talking about a particularly vexing problem that plagues many folks in the inbound marketing industry, and that is the challenge of having a different sort of content that you want to rank to help you earn sales, to help you sell your product or your service, your idea, versus the content you create that performs well in the link and social sharing graph of the web, the one that everyone's tweeting about, the one that everyone's putting on Facebook and Google+, the one that everyone's linking to. This is a big frustration because the problem becomes that you don't really want to see this, especially those of you who are very conversion focused don't want to see this, where you Google some particular keyword and then maybe some other guy's ranking number one and you're ranking number two, but you're ranking number two with some link-worthy content, maybe something from your blog, a cool infographic you did, a nifty tool you built, something that you thought would perform well on the web of ideas and the content web, but is not pulling in the sales that you want.

If you've got a page like this that the issue can be, yeah, it's awesome charts and it's graphs and cool images and information and maybe some great opinions, some video, whatever it is, but it's not getting people to take the next step that you want them to which is buy. "I want to collect your e- mail address. I want to get some information from you. I want you to fill out this form. I want to get in touch with you so my salespeople can get in touch. I want to have you click 'buy' right here and go through a shopping cart process," whatever that is, it tends to be on a very different page, a boring, classically boring, not necessarily boring, but a classically boring product or sales-focused page, and oftentimes, that's ranking way down here, number 27.

So, there's a number of strategies that you can use to work around this. I think that this challenge is actually one of the things that draws people away from inbound marketing and makes them focus on sometimes black hat activities or purely paid search activities. Remember with paid search I can go, "Well, you know what? I can just put this in an ad up here and, yeah, the click-through rate isn't going to be nearly as good. I'm not going to capture as many of those leads, but it's fine. I'll get some of them, and that will be a way that I can earn those visits." But what you really want to do is have the ability to rank number one, number two with your boring product or sales page. There's a bunch of ways to do this.

Number one, one of my favorites, it is the simplest one – combine and conquer. This doesn't always work, but there are many times when I've seen folks who, for one reason or another, they have this great page with all this information that people link to and people like and people have checked out and shared, and they have this other page that's boring, but they never think to combine these into one and it's very possible. So, what you can do is take the, whatever it is, the technical specifications of the product, the idea you're trying to present, the sales stuff of it and mix it together with stuff that you know has performed well, the opinion part, the content piece. This doesn't always work, but it can work very well, and one of the things that you can do is if you find content that works tremendously well to attract links and shares and those kinds of things and then you have this boring page, you can put them together and then redirect, 301 redirect one of these to the other one, whichever the new canonical version is or rel=canonical it over, assuming the content's going to be the same, and you can earn that same position, essentially killing this one that's ranking 27th, x'ing this guy out and putting him up here. Then this page, which has the e-mail capture, the lead capture form, the "buy this product" whatever it is, can start to get that traffic, earn that traffic. Granted, this doesn't always work and that's why there's a bunch of other strategies.

One of the ones that we use all the time here at SEOmoz is to leverage the authority that you earn by producing great content to get links to the sales page. What do I mean here? What I'm saying is, what happens if you put out one of these is that this page gets links and interesting stuff and that's great. But if you write a blog that every week has great content that people in your industry care about, eventually, you will find that other great things happen. People will start asking, "Can I translate your content?" When they ask for translation privileges, you say, "Sure. We ask that you provide these links, including the links that we've got on this page, which by the way, link over to this one." So that gives you some nice links right there. People will ask you to guest blog for them. They'll ask you to contribute to questions, to surveys, to industry conferences and events, all sorts of things. Your bio, your profile will fly around the web.

When that stuff happens, you have the opportunity to embed that link that points back to the content that you want to rank, and very often you'll get a chance to capture the indented double listing. Many of you have probably seen this in the Google search results, but when there's a second listing from the same domain, it goes in here if it's on the same page. So, for example, you could be ranking number 10, and you will automatically be popped into a sub-spot number 3, which can be great for traffic, particularly because this can help to get the right intents to the right places, right? If this guy over here says, "Hmm? I'm not sure which one I want to go to." He's even got some little thought bubbles there. He's not sure which of these he's trying to get to. Well, he can take a look at both of them and go, "Oh, yeah, you know what? I've read this piece from them. That's not what I'm interested in. I'm actually interested in the product." Now that's going to be a very high value click, high likelihood of transaction person.

Number three, a lot of the time, if you can't truly combine these, or you feel like it's disingenuous or it doesn't work well or it would be not really the same content to put these two together, you can still have a sales message in here. All sorts of great content on the web has advertising embedded in it. When you advertise for your own stuff, this works even better. You can see this on the SEOmoz blog, where we'll sort of ask, "Hey, have you taken a free trial yet? Do you want to sign up for a comment?" Then you'll put in your e-mail address and you'll say is it okay if we e-mail you, and we'll shoot you an e-mail in your first week of free membership and say, "Hey, do you want to give Pro a try?" So we're sort of capturing you, and that sales message that can pop over on this type of content, that could be something that comes up after the page has loaded. It could be embedded right in there. You can test all sorts of different formats. It could be on the sidebar. It could be at the bottom of the page. It could be only when they try and take action on the page. Whatever it is that you think works best, that's a great way to send the relevant portions of this traffic over to these sales pages and potentially capture those leads as well.

Then the last one I'll mention here, number four, is using content marketing, in general, all forms of content marketing, which would include things like SEO and social media and however your content is being distributed, to earn the permission to do marketing and get that follow-up. And what I mean in here is, if people start subscribing to your blog, if people are following you on Twitter, if people are connecting with your Facebook fan page, they're liking your stuff, they're encircling you on Google+, this essentially says, "Hey, I am open to being part of your community and part of your world. I'm interested in what you're doing," and now you have a relationship and that relationship allows for this kind of permission marketing, which means you can say, "Hey, would you like to subscribe to this e-mail newsletter? Could we contact you about our products? Would you like to watch this webinar about some of the things that we're doing? Does this particular individual product, which is timed with a season or an event match up for you?" Those are things that all sorts of folks do. You can see great examples of this all over the search world where industry blogs that are connected with events like an SMX or a SES or a Pubcon will essentially say to people who are in those communities, "Hey, now it's time for this event. Would you like to follow up?"

You can see this inside the SEOmoz community where we essentially gather a lot of people who subscribe to things like the Moz Top 10, and then there will be one marketing or sales-focused message and link somewhere in the Top 10, usually in paragraphs below, those kinds of things.

These tactics, these strategies, these ways of mixing the two of these are incredibly powerful because what it lets you do is to say, "Hey, inbound marketing and content marketing can be forms of sales," and that's an incredible power to have because the ability of these to attract a huge audience versus these, which tend to have a much tinier and more focused audience, is really impressive, and, over time, this audience actually grows as a part of this. So if you're attracting all these people, yeah, it could only be that a tiny dot starts out as a relevant part of who's going to buy, but over time, it grows and grows and grows. It's a great thing.

All right, everyone, I hope you've enjoyed this edition of Whiteboard Friday. I hope you'll try some of these strategies, and I hope we'll see you again next week. Take care.
Video transcription by Speechpad.com
Sign up for The Moz Top 10, a semimonthly mailer updating you on the top ten hottest pieces of SEO news, tips, and rad links uncovered by the Moz team. Think of it as your exclusive digest of stuff you don't have time to hunt down but want to read!

Go to Source
Fewer leads can actually generate more revenue for your business. It sounds crazy, right? For many businesses, Marketing is responsible for generating as many leads as possible in order for Sales to sell to more and more customers. So if you were to cut back on the number of leads you fed to Sales, then you would probably assume that Sales wouldn't be able to sell as many deals. But what marketers fail to realize is that sending more and more leads to Sales can actually make them less productive. A portion of the leads marketers generate are usually either not yet ready for a sale or not a great fit for the product. And it takes time for your sales team to sort through this junk in order to identify the gold nuggets (AKA potential sales). And when you increase the number of leads Marketing generates for Sales, you increase both the number of gold nuggets and the junk, and you can actually make Sales less productive, since it will take them more time to pinpoint the leads that are actually ripe for a sale.
What is a Marketing Qualified Lead?
Implementing a Marketing Qualified Lead (MQL) strategy can help improve the efficiency and productivity of your Sales organization by feeding them fewer, higher quality leads. An MQL is a lead that is more likely to become a customer compared to other leads based on their activity before converting. As a marketing organization, if you only serve up the MQLs, then Sales spends less time searching for those MQLs in their typical process and more time selling to the golden nuggets you supply, thus closing more deals.
How to Define an MQL for Your Business
An MQL at one company may be completely different than an MQL at another company. It's important to do your own internal analysis of your leads and customers to create your business' definition of an MQL. Here's how to get started defining an MQL for your business.
Step 1: Analyze the Data
The first step to defining an MQL is to dig into the data. Start by creating a list of all the activities a lead can complete before becoming a customer, such as requesting a demo or a trial of your product, visiting certain pages of your website, or downloading certain pieces of content. When analyzing these activities, you want to look for items with the highest close rates. Closed-loop marketing analytics will really help to do this complicated analysis for you! For example, if you are looking at the close rate of leads that request a trial, you'll want to take all the leads took a trial and became customers, divided by the total number of leads that took a trial. This will give a close rate for the trial activity.
Step 2: Compare Close Rates, and Determine a Threshold
Once you determine all the close rates for your conversion events, compare them against one another. At this point, you'll want to focus on the top events with the highest close rates. From this, try to eyeball a threshold close rate that separates the men from the boys. Most of your close rates may be close to 1%, but there may be 3-5 that are closer to 5%. These top-closing events will define your MQL. Every lead that converts on one of these events now qualifies as an MQL for your business.
Step 3: Implement Your MQL strategy
Once you've determined what an MQL looks like for your company, then you can start to analyze the volume of leads that complete these MQL activities. If the volume of MQLs is sustainable for the number of sales reps in your organization, then only deliver those leads to Sales. They should be able to close more deals with these leads than from the entire lead flow.
If you don't think your lead volume of MQLs is able to support your entire Sales team, then it's time to start focusing on how you, as a marketer, can start generating more MQLs. To do this, try incorporating more calls-to-action on your website and in your content that direct leads to your high-converting events, or make it easier for leads to navigate to the high converting pages of your website. While you do this, you should find ways to highlight these MQLs for your sales team. It's important to communicate that these leads close at a higher rate and should be worked before any other type of lead. Even if you can't feed your sales team only MQLs, helping them prioritize and focus on these types of leads will improve your company's bottom line.
Have you implemented a MQL strategy for your business? What results have you experienced?
Connect with HubSpot:

Go to Source